About John Tiller Software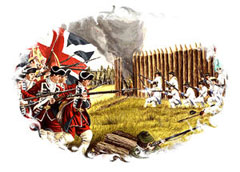 John Tiller, who has a Ph.D. in Mathematics, first began developing commercial wargames in 1995 for TalonSoft. The first commercial game developed was Battleground Ardennnes. This was quickly followed by Battleground Gettysburg, the first in a very successful series of games on the American Civil War. During the time that John Tiller was a game developer for TalonSoft, he developed about 15 games and add-ons including the Battleground series for both Civil War and Napoleonics and the Campaign series of World War II games.
Starting in 1999, John Tiller's team began publishing commercial wargames for HPS Simulations. The first release Smolensk '41, was released late that year. This was followed by Campaign 1776, a very popular game on the American Revolution. Since then, there have been many releases in the Panzer Campaign series and several new series released, making over 60 games published by HPS Simulations. In the Fall of 2010 John Tiller began self-publishing with the launch of johntillersoftware.com and the associated Store. Since that launch an additional 35 games have been published, with more to come.
Since 2003, John Tiller Software has been doing research and development under military contracts, starting with a contract for Artificial Intelligence research with the Air Force Office of Scientific Research. This was followed by multiple contracts with the Air Education and Training Command and the Air Force Squadron Officer College. The simulation Modern Air Power continues to be enhanced for use in the Squadron Officer College at the Air University at Maxwell Air Force Base, in Montgomery, Alabama. John Tiller Software has also had prime contracts and subcontracts with the Air Force Research Lab in Rome, New York. In the summer of 2010, John Tiller Software worked under contract for the Navy's Strategic Studies Group in Newport, Rhode Island, performing research into future naval combat.
In the summer of 2005, players and developers of John Tiller Games first got together for a convention called TillerCon in Richmond, Virginia. There have been other TillerCon conventions since then in other locations.
The focus of current development by John Tiller Software includes both commercial development of existing and new game series as well as research and development for the military.